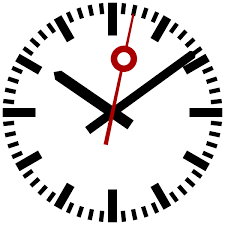 September is here, the summer holidays are over and it's back to business.  For most business owners time is an extremely precious resource that there is simply not enough of.  Using your time wisely can help you achieve more throughout the business day and stay focused on your objectives.
Here are some quick tips that you can adapt in to your daily working life to help you make the most of your time in your working day.
Write a To Do List.  You probably all know that you should be writing a To Do List, but do you actually do it?  Make notes of everything you need to achieve during the day and then tick the items off as you achieve them. You will find that throughout the day things will be added to the list and equally you will probably also find that things get carried over from one day to another.  If there is something that continues to be carried over ask yourself why you keep putting it off.  Is it not important or just that you don't want to do it?  If it's not important then cross it off the list, there's no point cluttering your list and your mind with things that are not important.  If it is important but you either don't have the skills to do it yourself or you simply don't enjoy doing it then delegate to a colleague or outsource the task.
Carry out similar tasks in blocks.  For example, make all of your telephone calls in one go and block out time to respond to your emails all together as opposed to when they come in.  Performing similar tasks in a row means that you get in to a rhythm and actually perform the tasks quicker.  It also means that, for example you are not spending time logging in to different social media platforms multiple times when you could do it just once a week.
Use only one calendar for everything.  Most people will have a work diary that is fairly up to date (if you don't you should), but then sometimes you may find that you have another diary for personal life.  Combining the two, ideally colour coded so that you can see at a glance what is personal and what is business ensures that you can see everything at a glance so if you need to make an appointment you know straight away if you are free and don't need to spend time comparing the two.  Google calendar is a useful free tool that I use and you can also share this with others.
Use cloud based systems for sharing and storing files.  Tools such as Dropbox enable you to share files easily without the need to email or print off ensuring everyone has all the information that they need instantly.  You also know that information stored there is secure and backed up, therefore minimising your risk of losing important information.
Keep your desk tidy.  Organise your desk with trays so that you know exactly where everything is.  Only keep things on your desk that you are actually working on.  Keeping your desk clutter free helps you stay focused and minimises your stress levels.  At the end of each day have a quick tidy of your desk so that when you come in to work the next morning you are starting with a clean desk, which will help you get the day off to a positive start.
You will find that these steps are quick and easy to implement and make a surprising amount of difference to your productivity levels so give them a go and see how you get on.
If you have any interesting and useful tips that you'd like to share we'd love to hear them.
Have a great September!