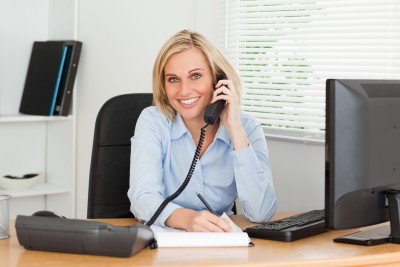 A small business who we've worked with for the past 5 years has relocated this week to London.  He has used our mailing address and telephone answering service ever since he started up his cleaning business, to give him a presence in the Bury St Edmunds area.  He lived in a nearby village and didn't want to give out his home address.
His cleaning business was aiming at the commercial market and not really looking for domestic clients at all.  He wanted a dedicated office address to give his small business the appearance of being a bit larger and more entrenched than was actually the case to give his potential client base confidence in his business in order to help him win some corporate business.
Over the last 5 years this small business has grown substantially, both in terms of its number of employees and in terms of the volume of business they have won, some of which I'm pleased to say can be attributed to telemarketing campaigns which we have run for them, the rest through their own business development activities.
Our telephone answering team are always busy speaking to this clients callers, who may be new business enquiries, existing customers calling with queries or the cleaners employed by this small business.  The calls are always varied and frequently urgent.  This business owner is a very proactive busy person who is always on the move, whether he is visiting clients, out on meetings securing new business, managing his team or hiring new staff.
For a small business like this a telephone answering service means that there is a central point to coordinate his day to day activities.  His team and his customers all have his mobile number, of course, but the fact is they are unlikely to be able to actually catch him on it, and as he's so busy if questions can be dealt with by someone else he would rather not have to call back.
He will often phone in or email our team to make us aware of his movements for the day, so that we can tell callers that realistically he won't be able to return their call for 3 hours if they want to speak to him personally.  This really helps to manage the expectations of the caller and helps give his business a reputation for providing good customer service.  The answering service is bespoke so if he wants to let us know for example that there is a specific message for a particular person should they call we are able to relay that for him, so that quite often they don't actually need to speak to him in person.  We just send him an email making him aware of the conversation so he is up to speed with what has been said, if he needs to contact this person further then he can do.
He currently comes in to the office when he is passing through to collect his post which has come in to his business address.  We always enjoy having a catch up with him when he comes in as he's always got so much going on it's really interesting to hear about.
Over the last few months he has been talking more and more about the business that he has won in London, as well as in Suffolk and he has been spending more and more time there.  Recently he made the decision to relocate to London, but to continue with the work that he is doing in Suffolk, which is now quite well established and able to continue with less day to day management from him.
Although he is not local enough to pop in any more to collect his post it doesn't actually affect the virtual office service he uses.  Instead of coming in to collect, we will be forwarding the mail for him from now on.  The telephone answering service will remain entirely unchanged.  He will still maintain the telephone number that he already has and we will still continue to answer calls for his business in his company name and as far as they are concerned they are speaking to someone sitting in his office so he is very much maintaining a local business presence.
Going forward he may decide to also purchase a London telephone number, which can also be diverted in to our team so that he is able to give the appearance of having two offices.
For this small business owner using having a virtual office means that he is able to carry on with business as usual in a geographic area that he is now well established in, whilst being able to spend more time where he is needed more looking after those accounts which are still in their infancy and still need a lot of day to day involvement.
We're really excited for him as he continues to expand his business and feel really pleased to be part of the team.  The only thing we're a little bit sad about is that we won't be seeing him in person now that he won't be calling in to collect his post any more, but I'm sure he will be calling in to say hello when he's in the area.