What is the difference between a virtual office and a virtual head office?
I am often asked, what is the difference between a virtual office and a virtual head office?  It's an understandable question.  The term virtual office has been around for some years now, yet the term virtual head office is really only just emerging.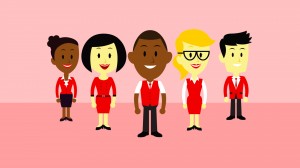 A Virtual Office or A Virtual Head Office?
A virtual office, as you may already know is a physical office that you're not actually based from.  In other words, it gives you a business address and a telephone number without you actually being there.  For many businesses two of the major costs are staff and premises.  A virtual office is a way of dramatically reducing the overheads of running an office and all it's associated costs by working from home and then using the address and telephone answering team of a virtual office.  To the outside world your business appears to be based within the office, it helps to maintain your privacy and makes your business appear more established.  You also have a telephone number where your clients can phone and be greeted by your own receptionist.  This is obviously much cheaper than actually employing someone as you only pay for the time spent on the phone.
Many home based businesses will use a virtual office to keep costs down, also larger companies who would like a presence in more than one area in order to win business in certain geographic areas will also use one, as again it is a low cost alternative to running a bricks and mortar office, which would need to be staffed.
A virtual head office is a virtual office with a full team of support staff, who will help with everything from administration, bookkeeping, accountancy, telemarketing, social media, web design and graphic design and print.  A virtual head office will even be complete with it's own stationery cupboard via an online office supplies store, order what you need, add it to your account and it will be delivered to you the next day.
In other words you get full head office support for your business without the price tag.  You don't need to take up all of the services, you can pick and choose what you want and only pay for what you use.  You could spend as little as £20 per month on a business address, but know that should you need them you have a full team behind you ready to support you if you need them.
In summary, a virtual office is the address and telephone answering team, a virtual head office is the address and full head office support team.
Is a virtual office or virtual head office the best option for your business?  Think clearly about what you need now and what you anticipate needing during the future.  If you are growing your business will you need further services down the line before you actually employ anyone?  Think very carefully about your needs and choose the right option for you.  After all, the benefit to using a virtual service is the flexibility as well as cost, so it makes sense to get something that can fit exactly what you need.