Grab Attention With An Effective Business Letter
Post published 22nd May, 2014
In business these days most of us will communicate electronically but have you considered how sending a letter in the post to someone can really make you stand out from the crowd?
A thank you card to a customer or a letter of introduction, well written on good stationery can give a lasting professional impression of your business.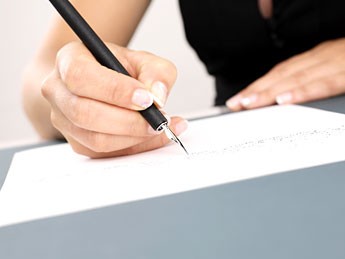 5 Ways To Make Use A Business Letter To Give A Great Impression
If you want to write a letter to business prospects here are our top 5 tips to make sure your letter gives a really lasting professional impression of your business.
Have a clear business message. Whatever you are writing about keep the message concise and easy to read. Use interesting and compelling language and content to make sure your recipient reads to the end.
Presentation is crucial. If you are handwriting keep it neat, if your handwriting is not fantastic then you can print and sign instead. Ensure your letter is laid out correctly, properly spaced and spell checked. If you want to give an impression of professionalism this is vital.
Mail merge to send large volumes. If you want to send a number of business letters a mail merge is probably the easiest and quickest way to do this. Letters and envelopes can be merged quickly with this tool. Merge a letter written in Word to then print and send out.
Cleanse your data first. Sending letters by post can be costly so you want to make sure you are sending to the appropriate people. Ensure you have the correct contact name and address, and that the letter you are sending is appropriate for that particular audience. Checking through before you print will save wasted paper, envelopes and ink as well as postage costs on any that you don't want to send at all.
Don't forget a call to action. Tell your recipient what you want them to do next. Do you want them to call you, reply to the letter or visit your website? Make it very clear in your business letter what you are asking them to do.
These tips should get you off to a good start to writing a professional business letter.
If you'd like to write more business letters but just don't have the time consider outsourcing as a one of direct mailing campaign and see how it works.